IM Oleg Badmatsyrenov wins Selangor Open 2023 and RM4000! Malaysian Chong Jin Cheng wins Selangor Challenger 2023 and RM1000!
CHESS NEWS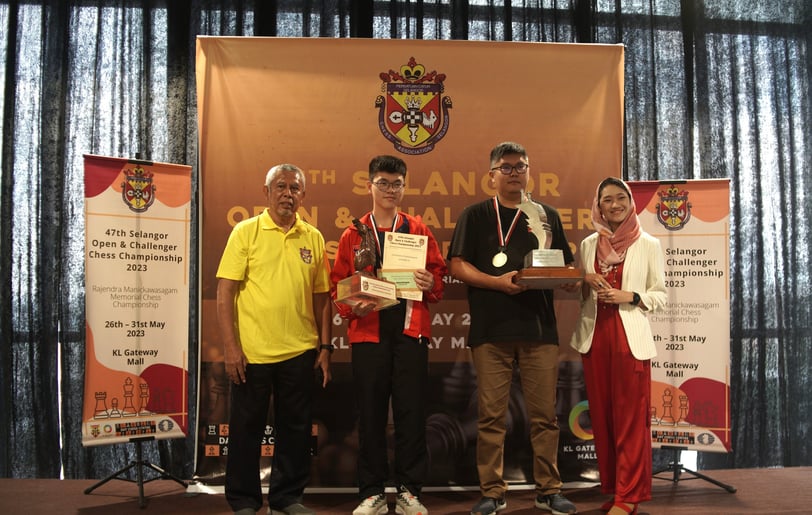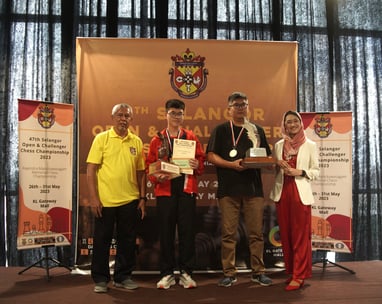 IM Oleg Badmatsyrenov (in black shirt) is the champion for Selangor Open 2023, winning RM4000! 2nd place goes to Muhammad Kamalsyah winning RM3000, 3rd place goes to IM Pitra Andyka winning RM2000! 4th place goes to CM Tan Jun Ying winning RM750, & in 5th place - FM Nelson Villanueva winning RM500!
Chong Jin Cheng (in red) wins Selangor Challenger 2023 with 8.5/9 points and RM1000 prize! He drew the last round against 2nd place Rumi Arjuna Malique who won RM700, and 3rd place goes to Joel Su Weng Yang winning RM500!
The 47th Selangor Open & Challenger Chess Championships took place from 26th to 31st May at KL Gateway Mall. It is also the Rajendra Manickawasagam Memorial Chess Championship.
View the results for Open Chessresults here, and Challenger section. More pictures will be uploaded on Chess Clicks's Facebook soon, and enjoy the post first! Stay tuned! 👀 Make sure to 𝙁𝙤𝙡𝙡𝙤𝙬 𝘾𝙝𝙚𝙨𝙨 𝘾𝙡𝙞𝙘𝙠𝙨 so you don't miss out!!!
Left to right: Member of Chess Association of Selangor, Challenger Champion, Open Champion, IA Ellie Emira
Check out our other Blogs!